Primary tabs
Masterclasses
This is a first-of-its-kind, 6 month semester for guitarists looking for a truly transformative experience.
Our goal is to provide an ultra-high engagement, world-class online certificate program curated by top professional players & instructors - for the price of local hourly lessons.
Here's what you'll get:
Monday - Friday LIVE Masterclasses with Michael, Jack Ruch, Guthrie Trapp, Lyle Brewer, Jamie McClean and some very special guests :)
Exclusive Weekly Lessons + Custom Challenges
Unlimited Video Submissions For Instructor Feedback + Coaching
Full Lifetime Access To Guitargate's 15+ Course Curriculum
Priority for YouTube Showcases (Show us what you've got - but only if you want!)
Permanent Verified Badge on Guitargate
Certificate Upon Completion
Incredible Savings - These Players Regularly Command $250-500+ / Hour
Enrollment is kept extremely limited, first come, first served, and will close at 25 members.
Price is $2000 (Save $100 Paying In Full) or $350/Month for The 6 Month Semester. Save an additional $500 when committing to a full year.
To Enroll, please click one of the two options below: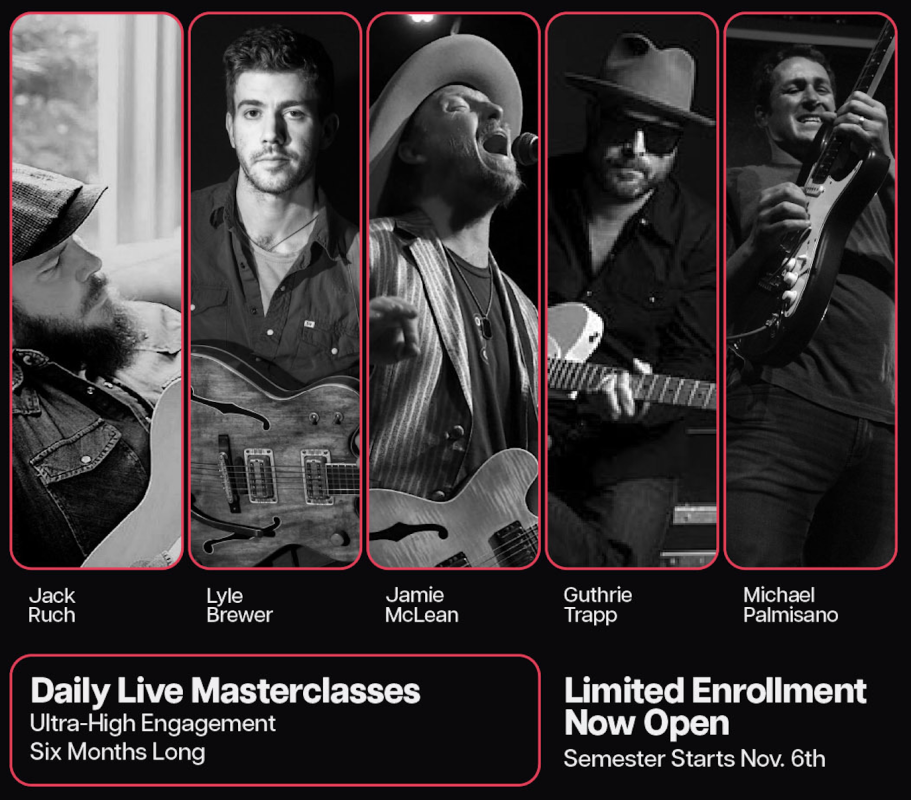 Michael Palmisano | Introduction To CAGED
A beginner's guide to the CAGED system and why it's so important to learn! 
This masterclass with guitarist Michael provides an introduction to the CAGED system for navigating the guitar fretboard. Michael begins by welcoming students and reviewing lessons from previous instructors. He emphasizes the importance of ensuring all students have a solid understanding of fundamentals before moving forward.
The bulk of the class focuses on demonstrating the 5 basic CAGED chord/scale shapes (C, A, G, E, D) and explaining how they connect and can be moved across the fretboard. Michael also stresses proper practice techniques, recommending students spend 10 minutes daily practicing shapes and playing all notes of a key. Examples are provided to illustrate practical application of the CAGED system.
Transcript Summary
[0:00:01] Introduction
Welcome and introduction to CAGED system
Review of previous lessons by Jack and Jamie
Goal to ensure everyone understands fundamentals
[0:05:11] CAGED Shapes 
Introduction of 5 basic chord/scale shapes (C, A, G, E, D)
Demonstration of each shape on guitar
Explanation of how shapes are movable and connect
[0:28:47] Practicing Shapes
Importance of repetition over duration when practicing
Recommendation to spend 10 minutes on shapes daily
Example of practicing all notes of a key using shapes
Michael Palmisano