The Guitar Lesson Social Network
Learn guitar interactively. Join for free.
It's an epidemic among guitar players to just learn songs, and not their instrument or music theory. We are dedicated to fixing that. If you are ready for a real guitar education, you are in the right place. Scroll down and see why we're different.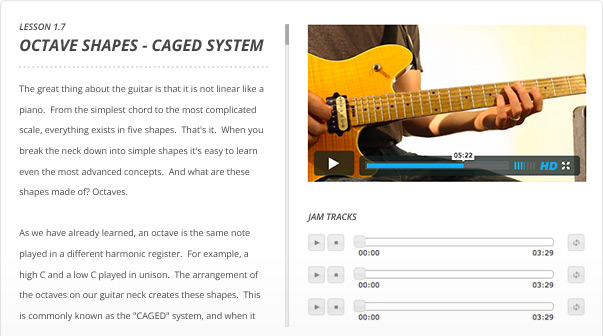 CONCEPTS ARE KING
No songs, No licks, No tricks.
Country, rock, jazz, blues, etc. - it doesn't matter - the underlying musical concepts are the same. Guitargate students focus exclusively on music theory, improvisation, and most importantly, their practical applications. learn how to confidently play in any genre and solo over anything.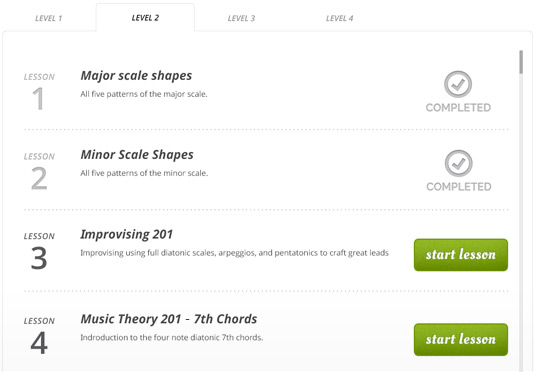 Step-by-step
It's easy to learn when you see where you are going. Complete one lesson at a time and keep it simple. Lessons are divided into 4 levels, and start to finish, it's only 60 steps to total guitar mastery. You can start anywhere, but it's strongly advised to start at the beginning so nothing is left out!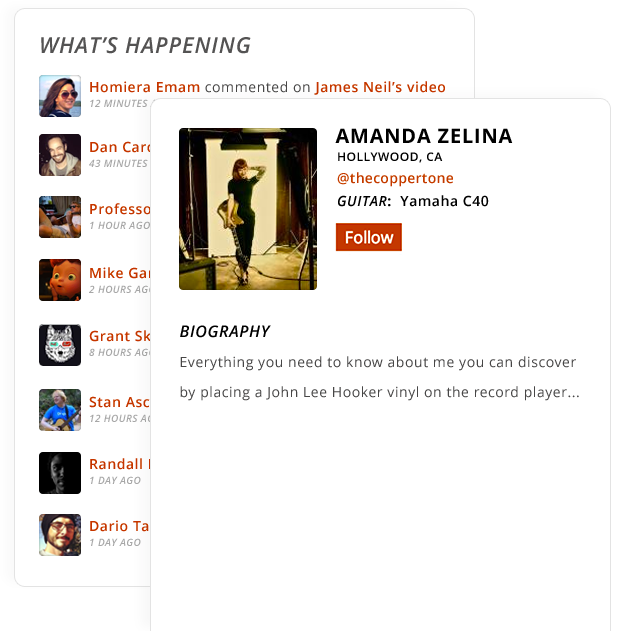 Don't do it alone
With the help of others you will go farther. Imagine having a community of thousands to support you, to motivate you, to inspire you.
Just like Facebook and Twitter, Guitargate keeps you connected. And hey, you just may have some followers of your own.
Let's see it
The more you give, the better you get
Sharing and receiving feedback will make you a stronger player. Isn't that why people take lessons? Post videos to complete lessons, showcase your skills, and share your music.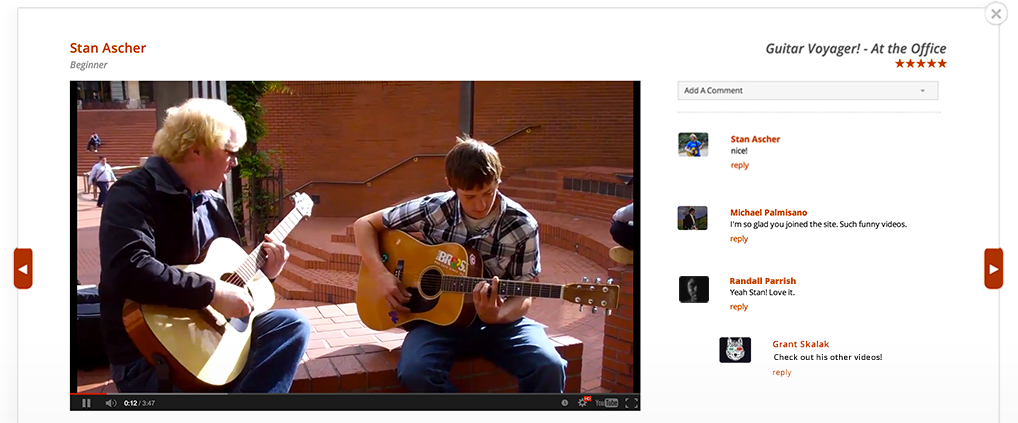 Testimonials
Weslley Braga - Tamarac, FL

Your course is really improving my musical knowledge, showing me different ways to think around the fretboard, and help me develop my own style. Thanks man!!!!

Seriously, I have never learned so much in the past 25 years than I have in the last few months!  I love your teaching style, and enjoy learning from the other students.  

 

Graham Baughman - Louisville, KY

Having played for 20+ years, all blues stuff, I am glad to finally learn the neck. Thanks for building a great way to learn! There is no other web site like yours! Thanks!

 

 

Jim Ferrie - Shrewsbury, England

I've been playing guitar for 45 years and the Guitargate lessons and style of teaching is second to none. It is my most important find in my quest to learn guitar! I have never been more motivated to learn!

 

Tristan Johnson - Concord, CA

I love the site, and it provides an excellent value. After a decade of strumming and learning a lick here and there, my playing is blossoming and I'm inspired in a way I don't think I've ever been! Thank You!


Erick Plascencia - Washington, D.C.

I'm amazed at how good Guitargate is. I've learned more in one week than I have ever taught myself in the 10+ years that I've "played" the guitar!

 

Chris Reynolds - Hertford, England, UK

I've been self taught for 12 years mostly by tabs and songs. I haven't seen theory explained in a way that makes so much sense, and I've spent many years looking!!

Ryan Endersby - Fredericksburg, VA

 I have improved my ability ten fold with Guitargate. I finally feel comfortable on the fretboard and having real, live, individual feedback is AMAZING!  You will learn your instrument on Guitargate!

David Gonzales - Jacksonville, FL

"I cannot tell you how much it has helped me to focus on concepts instead of songs.  Every day I spend on Guitargate I feel I break through another barrier.  Thank you!"

Noah Engh - Hollywood, CA

"Finally, a website that feels like you have an instructor RIGHT in front of you. Guitargate covers all the bases from your first day of playing to how to improvise in any situation."

JC Senatore - Blacksburg, VA

"I hate buying stuff online, but in 2 months, I've gotten better than I have in the past 2 years. No joke."

Donnie Eastman - Atlantic City, NJ

"I've had lessons for years and never understood theory and modes. In five minutes on Guitargate I felt that "ah-ha" moment. Awesome."

Ryan Garrison - Long Island, NY

"Playing for people makes me nervous, but posting videos on Guitargate has really helped. I love hearing what people have to say."
Pay After You Decide You Like It
Join for free - upgrade when you see the difference
Up to 35% cheaper than other leading sites, 95% less than private lessons, and virtually free compared to Berklee or Musicians Institute!