Primary tabs
Masterclasses
This is a first-of-its-kind, 6 month semester for guitarists looking for a truly transformative experience.
Our goal is to provide an ultra-high engagement, world-class online certificate program curated by top professional players & instructors - for the price of local hourly lessons.
Here's what you'll get:
Monday - Friday LIVE Masterclasses with Michael, Jack Ruch, Guthrie Trapp, Lyle Brewer, Jamie McClean and some very special guests :)
Exclusive Weekly Lessons + Custom Challenges
Unlimited Video Submissions For Instructor Feedback + Coaching
Full Lifetime Access To Guitargate's 15+ Course Curriculum
Priority for YouTube Showcases (Show us what you've got - but only if you want!)
Permanent Verified Badge on Guitargate
Certificate Upon Completion
Incredible Savings - These Players Regularly Command $250-500+ / Hour
Enrollment is kept extremely limited, first come, first served, and will close at 25 members.
Price is $2000 (Save $100 Paying In Full) or $350/Month for The 6 Month Semester. Save an additional $500 when committing to a full year.
To Enroll, please click one of the two options below: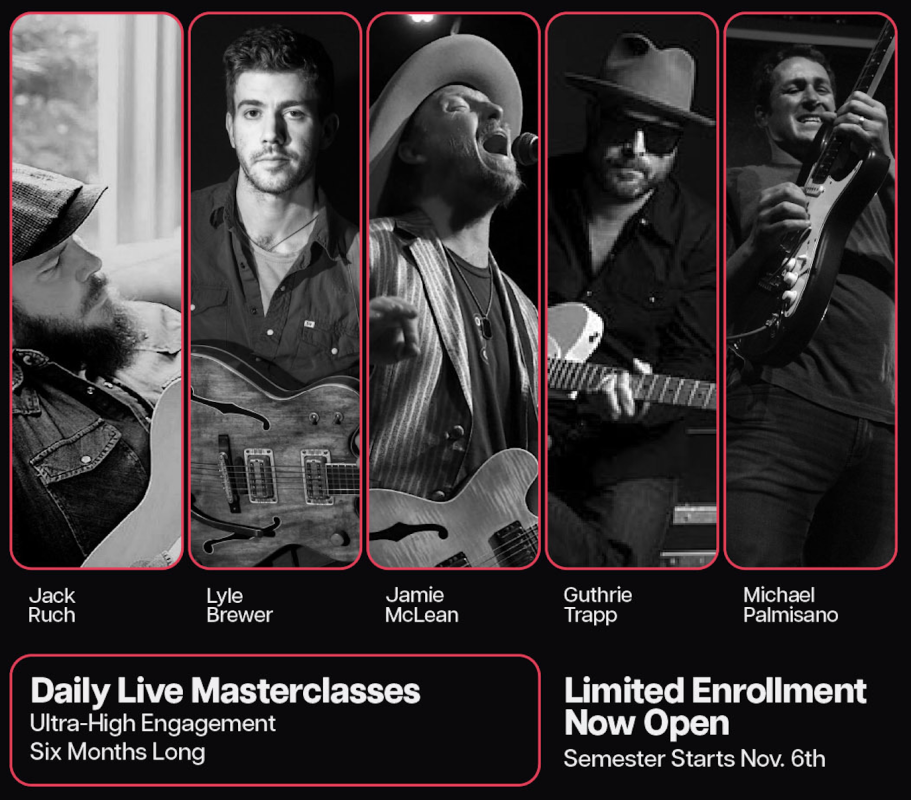 Welcome & Introduction Session
Welcome to the first Guitargate Semester! This is your introduction to the program and will outline everything you need to know. At the end I'll open it up to questions. Please watch first!
In this introductory masterclass, Michael welcomes the students to his new guitar semester program. He gives an overview of what they can expect throughout the course of the semester. Key details that are discussed include the weekly live masterclasses with different instructor guests, such as Jamie and Jack who will be teaching the first two lessons. Michael explains that the masterclasses will follow a lesson and Q&A format. In addition, there will be weekly custom lesson challenges for students to complete. As part of the program, semester students will receive priority support from Michael and the instructors when submitting questions or videos. The goal of the interactive program is to provide an immersive learning experience. Michael plans to start small and evaluate how the initial run goes before expanding the class size further.
Transcript Summary
Introduction & Welcome [0:00:06]
Michael welcomed everyone and explained the goal is to provide an opportunity for questions and an overview of the program
There will be live masterclasses with different instructors each week on specific topics
Instructors will be "the real deal" and teach things students will actually use
Students can ask questions in the chat or join on screen during the classes
Masterclass Format [0:09:19]
Classes will be about an hour long with 30-40 minutes of a lesson and 20-30 of Q&A
Lessons will build on each other with a theme for each instructor
Content will be geared toward intermediate players but accessible to all levels
Weekly Lessons [0:18:47]
In addition to masterclasses, there will be weekly custom lesson challenges
Lessons will include a rhythmic, harmonic and melodic component to build skills
Students can record themselves completing the lessons to share and get feedback
Student Engagement & Support [0:31:09]
Students have access to all courses and lessons on the site permanently
Michael and instructors will prioritize responding to semester students first
A Discord channel will be set up for the student community
Michael Palmisano