Primary tabs
Masterclasses
This is a first-of-its-kind, 6 month semester for guitarists looking for a truly transformative experience.
Our goal is to provide an ultra-high engagement, world-class online certificate program curated by top professional players & instructors - for the price of local hourly lessons.
Here's what you'll get:
Monday - Friday LIVE Masterclasses with Michael, Jack Ruch, Guthrie Trapp, Lyle Brewer, Jamie McClean and some very special guests :)
Exclusive Weekly Lessons + Custom Challenges
Unlimited Video Submissions For Instructor Feedback + Coaching
Full Lifetime Access To Guitargate's 15+ Course Curriculum
Priority for YouTube Showcases (Show us what you've got - but only if you want!)
Permanent Verified Badge on Guitargate
Certificate Upon Completion
Incredible Savings - These Players Regularly Command $250-500+ / Hour
Enrollment is kept extremely limited, first come, first served, and will close at 25 members.
Price is $2000 (Save $100 Paying In Full) or $350/Month for The 6 Month Semester. Save an additional $500 when committing to a full year.
To Enroll, please click one of the two options below: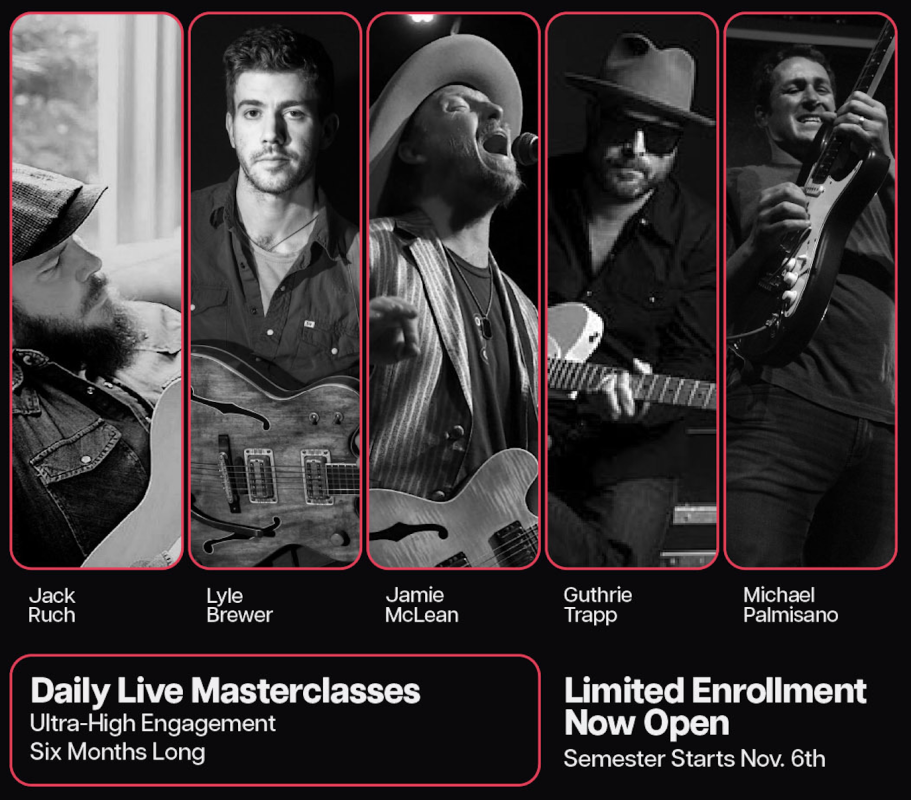 CAGED Primer Pt.2 - Chord Shapes
In this masterclass, guitar instructor Michael Palmisano teaches major and minor chord shapes across the neck. He starts by reviewing octave shapes and how they connect to form chord shapes in different patterns. Michael demonstrates the shapes for keys like C, F sharp, and A minor, emphasizing the most commonly used patterns.
Michael stresses practicing the chord shapes with a metronome or backing track to make it more musical. He encourages students to move between the shapes smoothly while picking out each note. Later, a student asks about dominant seventh chords, and Michael provides a detailed explanation of where they are used and how they relate to music theory.
Throughout the masterclass, Michael's goal is to help students internalize chord shapes across the entire neck through repetition and relating them to familiar keys and progressions. He emphasizes practicing in a way that feels musical rather than just as isolated shapes.
Transcript Summary
Review of octave shapes and how they connect to form chord shapes (0:00-0:11)
Octave shapes outline notes across the neck in different patterns
Chord shapes connect octave shapes to form triads and barre chords
Practice connecting shapes up and down the neck in different keys
Demonstration of chord shapes in C, F sharp, and A minor (0:11-0:32)
Shows major and minor chord shapes across five patterns
Emphasizes most commonly used patterns like pattern 2 and 4
Stresses visualizing triads within larger chord shapes
Encourages practicing with a metronome or backing track (0:32-0:47)
Move smoothly between shapes while picking out each note
Practice shapes in a musical way rather than isolated forms
Go up and down shapes forwards and backwards in time
Explanation of dominant seventh chords and their usage (0:47-0:50)
Only exist diatonically from the five chord
Provide pull back to the one chord
Blues uses dominant chords on any chord for its sound
Michael Palmisano